ZIGGY SOUND & ALLEN CHICCO - Wanna Know (Ten Walls Remix)
'Wanna Know' from the fearless Lithuanian indie-pop artists Alen Chicco & Ziggy Sound is a statement track that shows us that two different artists can indeed co-exist if they want it enough.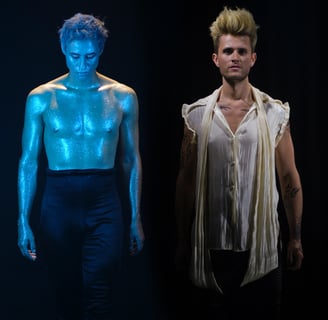 On Rotation: 'Wanna Know (Ten Walls Remix)
There are times when incredibly brilliant performers from many backgrounds come together to create something genuinely spectacular in the broad and diverse terrain of the music industry. "Wanna Know (Ten Walls Remix)" is a prime example of this phenomena, a musical composition that defies categorization and ignites a lively fusion of ability and imagination. We begin on a voyage into the domain of this remix in this tale, unraveling the fascinating tapestry constructed by Ziggy Sound, Alen Chicco, and Ten Walls.
Ziggy Sound, from the lovely city of Vilnius in Lithuania, is not your ordinary artist. His love of music is firmly etched in his psyche, and his musical journey has brought him through a variety of landscapes, from solo performances to collaborations with other bands. His insatiable hunger for musical knowledge drove him to pursue formal music training, and he even used the internet to display his live musical abilities. The actual magic of Ziggy Sound, however, resides in his incredible ability to reimagine songs and transform them into astounding inventions.
Alen Chicco emerges as a bold musician in the realm of Lithuanian indie-pop. His words are complex and thought-provoking, frequently leading the listener on a heartbreaking journey into his emotional passageways. His song bravely exposes his soul in search of natural camaraderie and understanding. With a common passion for creation and a mindset in sync with Ziggy Sound, this partnership was made for greatness.
This partnership has an intriguing fascination thanks to Ten Walls. Ten Walls is a DJ and producer who is shrouded in secrecy. He is known for adding his unique spin to every tune he works on. His distinct technique takes songs to new heights, making them even more unique and memorable.
"Wanna Know" is more than just a remix; it's a proclamation that defies expectations. It demonstrates that when two dissimilar artists possess a single vision and dedication, they can coexist peacefully. The words of this song dive deeply into levels of sensitivity that are frequently hidden. The same philosophy and unquenchable creative drive of Alen Chicco and Ziggy Sound radiate through every musical note, giving birth to a masterpiece.
So, as you go on your musical journey, don't pass up the chance to witness this remarkable remix. Take a time to listen and become immersed in the enthralling environment created by Ziggy Sound, Alen Chicco, and Ten Walls.
Listen to 'Wanna Know' on Spotify: