OLYA POLYAKOVA - Love Is Blue
'Love is Blue' is a collaboration between the dance band Army of Lovers and burlesque diva Olya Polyakova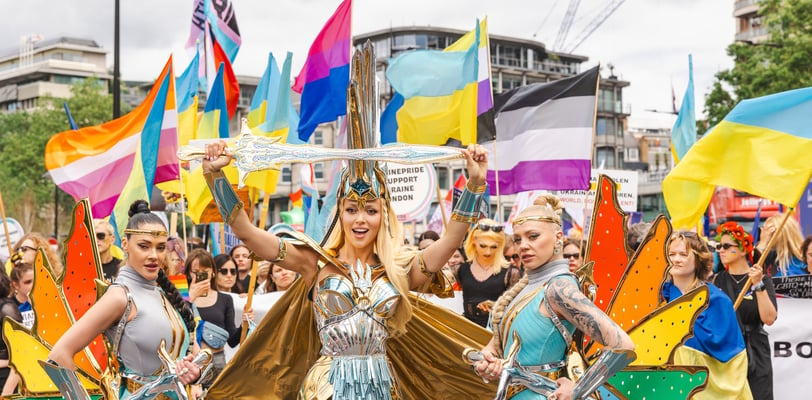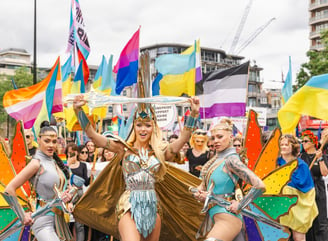 It's an unexpected duet of the European dance band Army of Lovers and burlesque diva from Ukraine — Olya Polyakova. Their joint single «Love is Blue» will appear on the upcoming album by the legendary Swedes. The album will be released on November 24. It will be titled «Exodus» and be Army of Lovers' first album in 10 years. The band's ideologist, Alexander Bard, promises a bright return and an extensive tour.
The single «Love is Blue» was composed by Alexander and the famous songwriter Anders Hansson, a former member of the 80s disco band Secret Service. Last year, the well-known Ukrainian singer Olya Polyakova worked on new English-language material in Anders' studio in Stockholm. It was there that she met Bard, and he, impressed by Olya's charisma, immediately offered her a duet.
«Love is Blue» is a hit song that has already hit the radio charts in many European countries. Army of Lovers' new single is a power-pop anthem that organically combines epic scope and witty self-irony. This song is the long-awaited fan service for everyone waiting for the «new Crucified» for years, enhanced by the resonant, powerful vocals of the Ukrainian diva.
In Ukraine, Olya Polyakova is a big pop star who gathers full halls and performs impressive shows. Her recognizable style is smashed hits with nostalgic notes from the 80s, impressive (actually operatic) vocals, humor, burlesque, shocking and stunning productions — numerous special effects, dancers, and unique images.
Olya's new role is a feminine but invincible Valkyrie who punishes her enemies with the sword and bestows love on everyone who shares simple values — peace, love, unity, and respect. In the summer of 2023, Olya Polyakova led the Pride march in London, impressing the participants and the press. However, this is only the beginning! Her career on the European pop scene is rising, and the LGBT+ community is happy to welcome such a strong and extraordinary artist to its ranks.