FOCUS: "YOUR OWN WORDS" - interview to Robert Vendetta
Robert Vendetta is back, headed for the disco!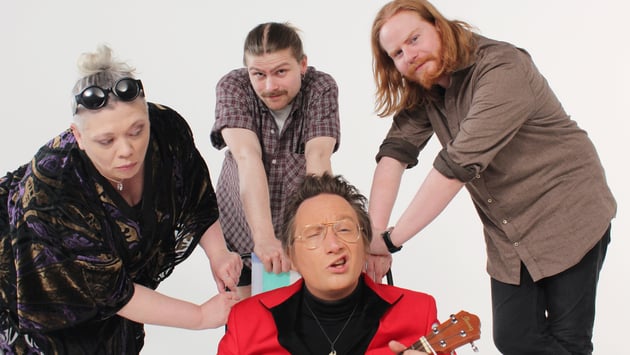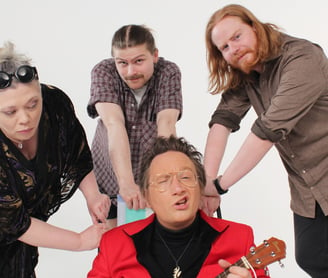 FOCUS: "YOUR OWN WORDS" - interview to Robert Vendetta
Robert Vendetta is back, headed for the disco!
Hi Robert! What first inspired you to make music? How the Norwegian music scene influenced your career?
Well, it all started in the basement of a friend. I was about 11 or 12. He had a high-fi stereo and played me two songs: Bad Boys and Black or White, the latter by Michael Jackson. I was amazed, and quickly became a fan. I bought a VHS about Michael called "The Legend continues" and on that tape there was a clip of James Brown. When I saw that I knew that I wanted to do that, sing and dance. And write songs.
To be honest, I'm more influenced by things abroad. I grew up listening to Elvis, Jerry Lee Lewis and The Highway men - my dads favorites. Then James Brown came along, I had my KISS and Bowie phase. I've worked a lot with teenagers so I try to keep up with what's going on on current music scene. And I am a fan of Ariana and a Selenator
What are a few words that would best describe you as an artist?
Hmmm. I'm not your typical Norwegian, I'm more American. I like to wear colorful outfits with bell bottoms, close that demand your attention. And I've been fond of doing a great job onstage - learning from everyone from Dee Snider (of Twisted Sister) to Elvis, Mj, Jerry Lee Lewis... And I've always listened to and have been inspired by music of all sorts. As a producer I've worked with everything from Latin American music, to classical music and heavy metal. I'm a melting pot of influences and styles.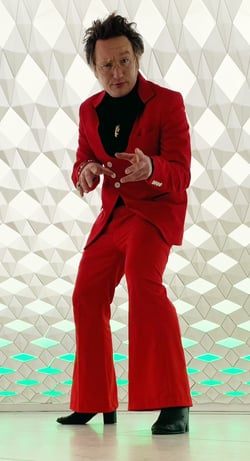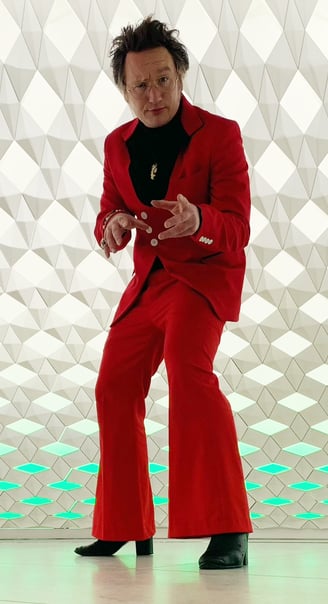 What would you say is your greatest strength as a singer/musician? Do you like to play with the full band?
I think my greatest strength is simply that I just can't give up. Almost like there's there's some one on my shoulder telling to get up every time I fall. I'm an educated musician that comes from an uneducated background, and I play several instruments. That's a strength too. And I have a background not just in music but also in theater and dancing.
I love playing with a full band, especially with the awesome band I have now. There's so much freedom involved, and fun. And the fact that you're not alone is truly rewarding.
Do you have any funny or interesting stories from being on the road as a musician that you can share with us?
Well. I have this thing on stage where I jump down on my knees. One time I did that I broke a string or something in my leg. I could still get down on my knees, but I couldn't get up. So had to roll on my back to get up. I did that for about a week or so.
What's the best advice you've ever received about pursuing a career in music?
Never give up and never stop working and evolving. And make sure the people you talk to remember you and like you. Ronnie James Dio was an expert at that. He could remember the fans names!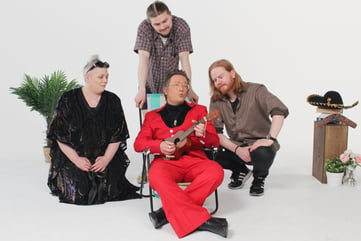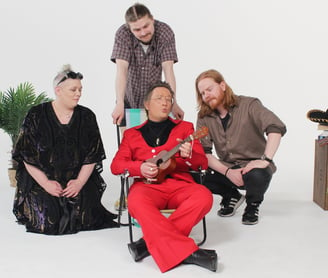 Are you planning anything exciting that we can look forward to?
Oh yes! There's an album coming out next year called "Vendetta Del Disco!" And four singles, all with music videos. The first music video will be out in July. And then we'll book a tour. I can't wait to get out there and play, it's my favorite thing!
If you had one message to give to your fans, what would it be?
That's easy; thank you, thank you very much. Your support truly means a lot!